Air-Remote Panels control rig air pressure to the hydraulic control manifold to operate the manifold functions. An air interface module is required on the accumulator unit and an air interconnect is requried to connect the air remote panel to the interface module. Air remote offered in several standard models to meet usual requirements and are available for any special application upon request. Air-electric panels additionally have explosion proof light station for each BOP stack function (bypass/internal override included when applicable) to indicate open or close status of the hydraulic control manifold valves.
PLC Panels with Touchscreen Display
Programmable Logic Controls (PLC) based system LCD color touchscreen provides pressure readout Electrical indication lights for valve position Audible and visual alarm for low system pressure, low rig air and low reservoir fluid level. 24 VDC electrical backup wireless and wired configurations logs function and alarms.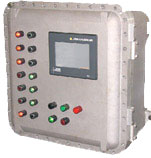 Electric Remote Panels
Electric remote panels provide remote control signals to th4e electro-pneumatic or electro-hydraulic interface module on the accumulator unit which in turn controls the hydraulic manifold functions. Electric remote control assures fast, dependable operation and minimizes installation requirements. All electric panels include indicator lights to indicate the function status of the hydraulic control manifold valves.
Electric remote panels are available in weather-proof, explosion-proof, air purge or intrinsic safe models. Electric panels may also be selected with an alarm package by specifying the 'EA' operation selection. The alarm package provides indicator lights on the remote panel to indicate low reservoir fluid level, low accumulator pressure and low rig air supply pressure. When ordering the alarm package, the T-series interface module must be specified on the accumulator unit.